A couple years ago I did a segment for a local tv show about how to style a tulle skirt. To make your waistband, pin the elastic around your natural waist so that it feels snug but not too tight. To sew your layers together, turn your skirt inside out and sew a few stitches near where a pin is holding the layers together.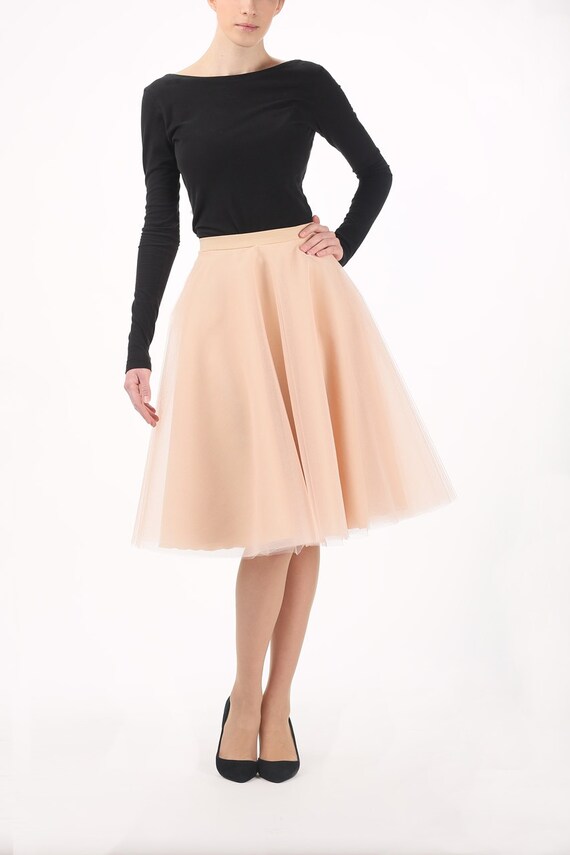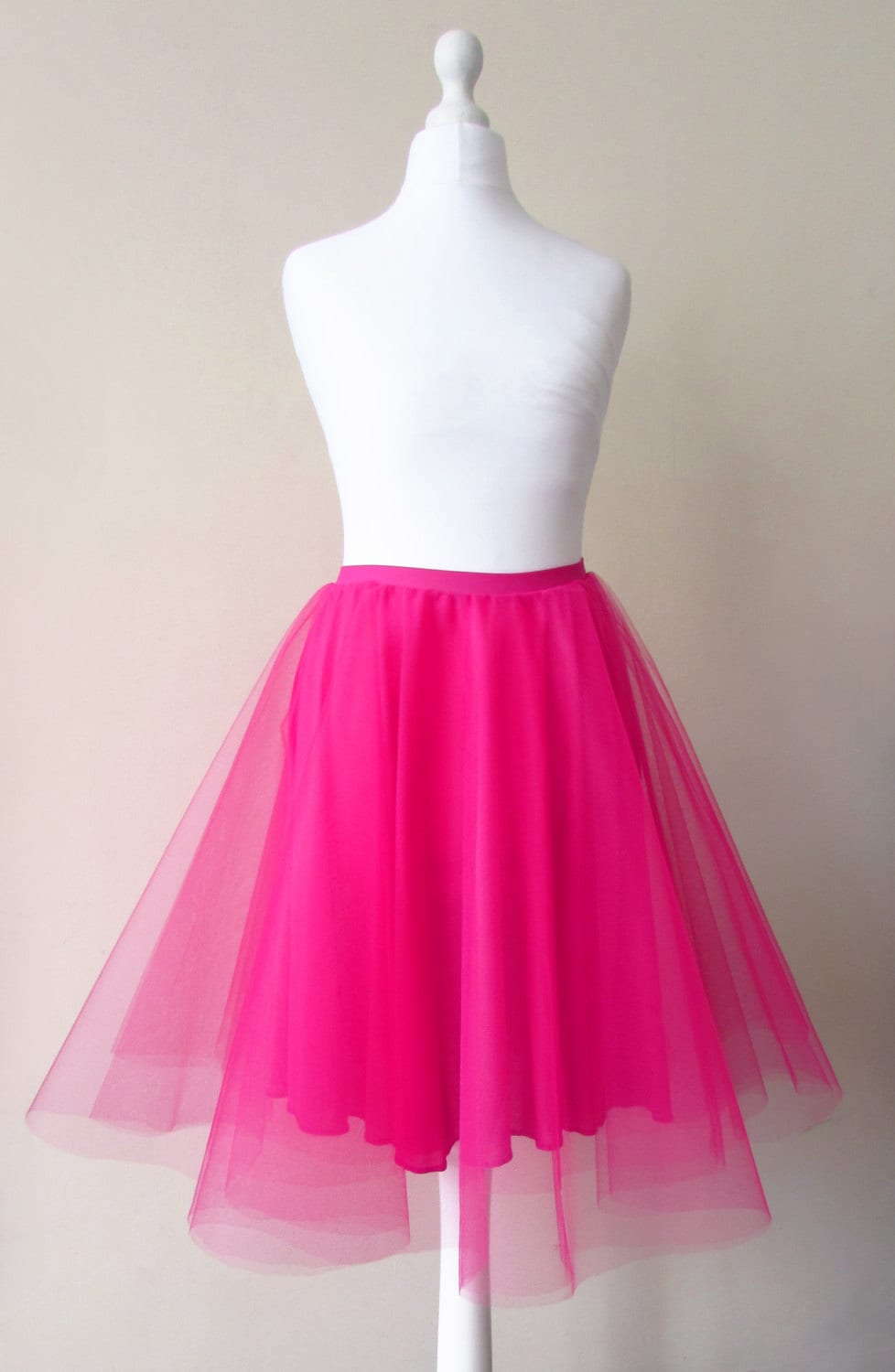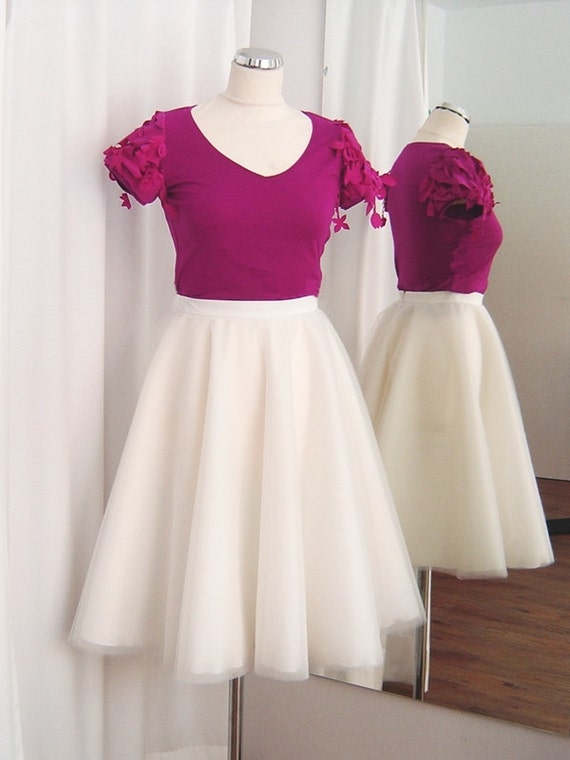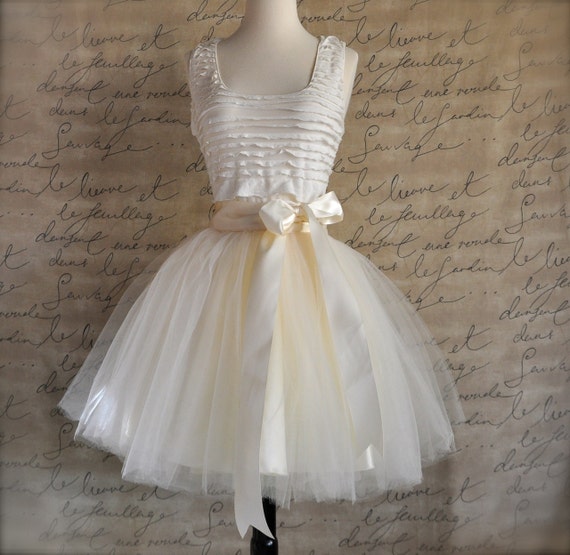 Now we cut it more accurately. Working with one piece of tulle at a time, unfold it so that the middle fold—the one that is folding the entire width in half—is at the edge of the lining piece. So, your lining piece is still on your cutting surface, and the fold of the tulle is along the edge with the waistline seam. The tulle will extend below the hem of your skirt.
For this step, I used champagne tulle on navy to show it better. Notice that the straight edges line up together. Cut around your lining piece. Only cut the fold of the tulle on one side of the waistband.
Cutting both will give you two pieces of tulle, which is not what we want. I work with two layers at a time, but start with one to get a feel for things. Baste the tulle around the waistline and down the center back seams. You may have a little extra on one center back seam.
Totally fine, just cut it off. Repeat for all layers, and then serge or finish your center back seams. I have used invisible zippers in these skirts before and while it looked nice for a while, it had a tendency to catch on the tulle, and quite a few of them broke. The last time an invisible zipper broke on me, I swore them off. Never had a problem with those zippers. You may need to clip the skirt around the waistline to attach it to the waistband, as things may have gotten a little scrunched up when we basted.
Attach the wasitband and zipper, and sew the center back seams together all the way to the bottom of the hem. Press open and flat, using a press cloth. You can see that I have the wrong sides of my underling together on the left with my layers of tulle together on the right. Cut next to the seam to free the tulle, and then cut off the excess from the ends of the seam. Now comes the easy part—the hem!
Hem the underlining, being careful around the seam with the tulle in the seam allowances. For more information on how to hem a circle skirt, see this post. I like to fully line my tulle skirts, so this is where I attach it, hem it, and close the waistline seam with a stitch in the ditch , and add a hook and eye above the zipper. For those wondering, this hot pink color came from JoAnn.
If I had to pick a favorite color, it would be champagne. As I type this, I have this skirt in white and navy, so I all really want now is champagne. Because three is my magic number, evidently. I will keep updating this post when I make more tulle circle skirts. You can make a waistband if you want your elastic covered, or you can show it if it's glittery or colorful. There are many different colored elastics available, and in different sizes.
I don't really like wide waistbands, so I chose a 1. Now, let's get to making this beautiful tulle skirt! I started off with the lining, because it is the easiest piece to cut out, hehe. Here is what my results looked like when I chose half and my waist measurement 26".
The length doesn't really matter right now, until Step 5, where you will cut out your skirt piece to your desired length. My lining piece was 21" total. Using your waist radius measurement, make a mark on one side, as shown below. Now, make a mark on the other side. Keep making marks across using your waist radius measurement, until you have made a curve Now from your waist radius curve, make a mark with your desired length measurement.
Remember to add seam allowance for hemming! Now like you did in Step 4, keep making marks from your waist radius until you reach the other side and form an even curve. This is how it'll look like after you cut it out. I think these skirts looks best when the lining is a little shorter than the tulle. Stack your layers together with the lining as the bottom layer and put a few pins near the waist to secure. To make your waistband, pin the elastic around your natural waist so that it feels snug but not too tight.
Wiggle out of the elastic and sew it together at that point. Use marking chalk to mark 4 equal sections on the waistline of your tulle circle. Do the same with the inside edge of your waistband.
In that case, just pin the middle of each gap to the middle of the elastic section so you now have 8 pins total holding your layers together. To sew your layers together, turn your skirt inside out and sew a few stitches near where a pin is holding the layers together.
Continue this process of pulling the elastic and the fabric straight and sewing until you get all the way around the waistband. You can try on your new skirt! I would say my biggest tip from making my own is to make sure you have all your layers pinned before you sew the waistband on.
Count your layers to make sure they are all pinned first! You can pretty much do as many layers as you want on this skirt without much added cost at all! Not too bad at all!! Hope you decide to make your own too! Laura Gummerman and Elsie Larson. Warm Regards, Alexandra http: The ballerina in me loves this DIY! I also LOVE those shoes! Can you tell me where you found yours? This is perfect for Spring! I love how soft and elegant it looks. Especially when paired with a simple fitted T-shirt or tank.
This appears to be relatively straight forward! Think I now have a little project for bank holiday weekend. Thank you kindly x. Plus with the striped top it looks amazing! I love this look. I think I might be able to pull of making this. Circle skirts are easier to make than other skirts.
Thanks for the great info. It looks super cute. I LOVE tulle skirts! I even have a post on my blog solely dedicated to styling them! This turned out so cute!! I would never be able to make this.. This tutorial is just amazing! Always want to make one for myself… What kind of tulle did you use, soft or stiff? I saw some ten year olds at the store and they went shopping for specifically tulle.
i am happy to report, i have found tulle to be ageless! you may think it needs to be only on the young, and not the 'young-at-heart' ~ but turns out we can all pull if off if used just right. i may not be able to pull off a tulle circle tulle skirt, but there are other options that are muy bueno. thanks for the share! this diy is . Introduction: Tulle Circle Skirt Here is a tulle skirt I made, because I'm 23 now and I need a tulle skirt for everyday looking-fancy needs as well as you can wear it . Find great deals on eBay for tulle circle skirt. Shop with confidence.